REPUBLIC DAY OF BRAZIL
When is Republic Day of Brazil in 2023?
Republic Day of Brazil in 2023 is on the Wednesday, 15th of Nov (11/15/2023).
Republic Day of Brazil is on the 319th day of 2023. There are 46 days left in the year.
Republic Day of Brazil Facts
Date: Nov 15, 2023
National
Also Called:
Celebrations: Social gathering, Flag Hoisting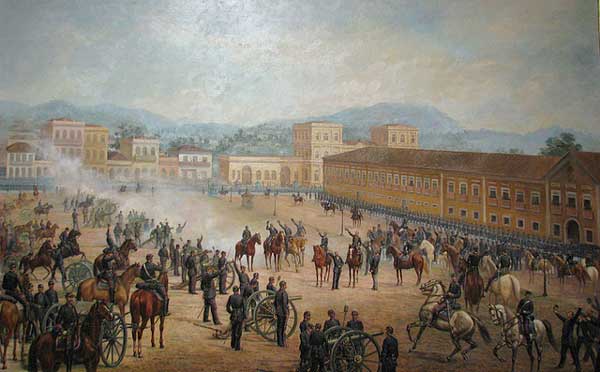 iImage Credit: wikiPedia
Republic Day in Brazil is a public holiday that is observed every year on 15th November. It is the commemoration of the end of the Empire of Brazil and the proclamation of Brazil as a republic on November 15, 1889. This led to the formation of the Federal republic of Brazil. It marks the anniversary of a new type of regime established by Marshal Deodoro da Fonseca who had just facilitated the overthrow of Dom Pedro II by the military coup. Since then the Brazilian Government and its people celebrate the Republic Day of Brazil. This day is celebrated by all the Brazilians because before their freedom their people had dealt with slavery. They mark the proclamation of Republic Day because democracy has provided opportunity for all.
On this day in Brazil most employees and students are given time off. Most people therefore stay at home and enjoy quality time with their friends and families. The Brazil National flag is raised throughout the country. Parades and concerts are held on the streets. This is followed by a series of meetings and celebrations all over the country with public figures making their appearance and speeches.
On the Republic Day in Brazil a vast variety and diversity of people, young and old, men and women, are seen in various vicinities of the cities partaking in traditional song and dance. There is a sense of victory and freedom in these celebrations. The people of Brazil are very proud of their country and Republic Day proves to be a perfect opportunity for them to make a big deal and put on a big show.
Since becoming republic in 1889, there have been different periods of the republic, with the latter being superior to the previous period. This has seen different people celebrating Republic Day for different reasons. For instance, the period between 1889 and 1930 is the old Republic, in which the economy was based primarily on agricultural production and primary product export. The government discouraged industrialization. Therefore, after this old period most Brazilians find celebrating Republic Day a significantly worthy opportunity. They celebrate the overcoming of the old republic by the new republic because industrialization is now possible. To them, the transition from the old to new republic is the reason for marking Republic Day. They celebrate the fact that employment opportunities are now available and equality is enhanced. The new republic offers a modern lifestyle giving the perfect reason to celebrate.
Republic Day of Brazil Observances