KARVA CHAUTH / KARWA CHAUTH
When is Karva Chauth / Karwa Chauth in 2024?
Karva Chauth / Karwa Chauth in 2024 is on the Sunday, 20th of Oct (10/20/2024).
Karva Chauth / Karwa Chauth is on the 294st day of 2024. There are 72 days left in the year.
Karva Chauth / Karwa Chauth Facts
Date: Oct 20, 2024
Religious
Also Called: Karwa Chauth
Celebrations: Praying to the Moon, Fasting, Gift exchange, Wearing new clothes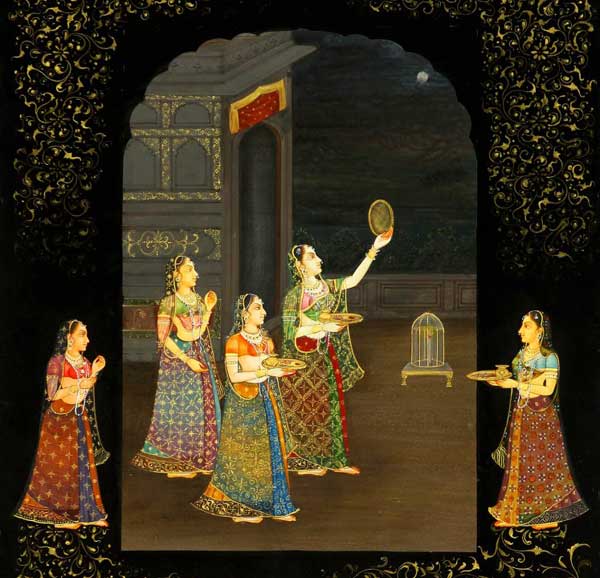 Karva Chauth / Karwa Chauth, one of many Hindu festivals, is a fasting ritual observed by all married Hindu women who seek the longevity, prosperity and well-being of their husbands. This festival is very popular amongst married Hindu women in the western and northern parts of India, primarily in Punjab, Rajasthan, Haryana, Gujarat, and Uttar Pradesh. During the Karwa Chauth festival, married Hindu women dedicate the day to their husbands. Normally, women who observe this festival are called "Saubhagyavati" meaning "joyous and happy status of wifehood." The festival was emerged also as a day for celebrating autumn. Hindu married women enjoy the company and companionship of relatives and friends. As of recently, the celebration has been given a more religious touch.
Karwa Chauth is glorified and also widely solemnized by Hindus and Sikh living in the northwestern part of India. Karva means clay pot while chauth means fourth. Karwa chauth commemorates the fourth day that follows the full moon in the Kartik month of the Hindu calendar. This festival is typically celebrated immediately after the autumn harvest. This is the best time to meet friends and relatives and exchange gifts. During this festival parents send various gifts to their married daughters.
Karwa chauth is known for its extraordinary observance rate among married women in certain parts of India. Karwa chauth is celebrated in different ways depending on the region where a person lives. During this festival, jewelry, clothes and gifts are received from both the woman's mother-in-law and mother. All married women wear wedding day outfits once again and apply mehndi.
There are many similar stories that are associated with karwa chauth from one part of India to another. During this particular day various items such as karwa, which is an earthen pot that has spout are actually collected and worshiped, is offered to the Goddess Parvati and Lord Siva. Usually the festival does not end until the moon is fully seen at night. During this festival an elderly woman is supposed to narrate a karwa chauth story before this fast is over.
Karwa chauth is a very important as well as a difficult fast that all married Hindu women observe. The festival begins just before sunrise and ends after worshiping the moon and doing prayers at night. No water or food can be consumed once the sun rises. The fast is only broken after seeing the moon and after all rituals of that particular day have been performed. When the moon has appeared, women break the fast after they have offered water to the moon.
Women dress in special clothes during this festival. A pink or red sari with a gold woven pattern is worn by many women as part their custom and is worn only in the evening. New brides will wear their wedding costumes. The karwa chauth fast sets a merry tone of frolic and fun, feasting and festivity and is amongst the biggest festivals celebrated by Hindus.
Karva Chauth / Karwa Chauth Observances