ONAM
When is Onam in 2024?
Onam in 2024 is on the Saturday, 14th of Sep (9/14/2024).
Onam is on the 258th day of 2024. There are 108 days left in the year.
Onam Facts
Date: Sep 14, 2024
Regional
Also Called:
Celebrations: Wearing new clothes, decorating houses, fireworks, boat race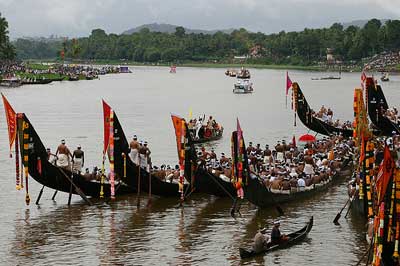 iImage Credit: Flickr/randompiks
Onam is a Hindu festival, celebrated with a great enthusiasm throughout Kerala between August and September.
Onam is the most popular festival of Kerala (a southern coastal state of India). This is a Hindu festival, celebrated with a great enthusiasm throughout Kerala for a period of ten days. Every year this festival falls on the Malayalam month of Chingam - between August and September and also known as the harvest festival of Kerala.
Onam is one of the most ancient Hindu festivals which is still celebrated with a great devotion. Onam marks the homecoming of King Mahabali, a legendary king, who ruled Kerala in ancient times. That period was believed to be the golden age of Karala, people were happy, free from harm and complete harmony and prosperity was there. This golden age ended when Vamana (an avatar of Lord Vishnu) pushed King Mahabali, deep into the earth. Satisfied by Mahabali's honesty and generosity, the lord granted him a wish that he can visit his kingdom and dear subjects once in a year.
Onam is celebrated for ten days - Atham is the first day and Thiruvonam is the final day of the celebration. People wear new clothes, decorate their houses and put flower carpet called 'Pookalam' in front of their houses, to welcome the King Mahabali. Special pujas are offered in the temples in early morning and younger members take blessings and gifts from the elder members of the family. During Onam traditional rituals are performed followed by a lavish feast with twenty-one homemade curries and sweet payasam on plantain leaf. Spectacular Carnivals of elephants, fireworks, boat races, music and the famous Kathakalli dance are traditionally associated with this festival. The state government of Karala conducts Tourism Week celebrations in connection with Onam, showcasing Kerala's beauty and culture.
Onam Observances