NATIONAL DAY IN SINGAPORE
When is National Day in Singapore in 2018?
National Day in Singapore in 2018 is on the Thursday, 9th of Aug (8/09/2018).
National Day in Singapore is on the 221th day of 2018. There are 144 days left in the year.
Quick Facts : National Day in Singapore
Date: Aug 09, 2018
National
Also Called: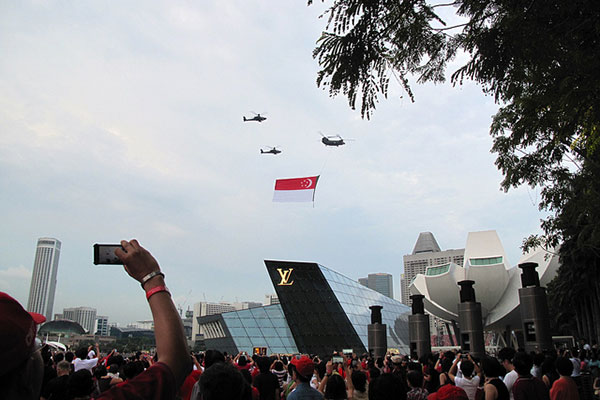 iImage Credit: @sbamueller/flickr
The National Day in Singapore is celebrated every year on the 9th of August in honor of the birthday of the nation. On 9th August 1965, Singapore separated from the Federation of Malaysia and became an independent country. The first National Day is celebrated in 1966 in Singapore.
The National Day in Singapore is celebrated with a grand parade in the Padang (Singapore National Stadium) with amazing live performances, music and fireworks. This Parade has become the biggest national event in Singapore. On this day many political leaders appear at the public events and talk about the nation's heritage, laws, history, people, about recent events and future projects.
The National Day is considered as a Public Day with outings, picnics and lots of outdoor events like parades, air shows, fireworks and musical concerts. Parades generally occur in the morning and the fireworks occur in the evening. The Singaporeans dress themselves up in the patriotic colors like red and white. The National Day fireworks are usually accompanied with the patriotic songs like "'Stand up for Singapore", "Count on me Singapore" etc.
Singaporeans proudly fly their Flag, sing songs and enjoy the day with their friends and families.
National Day in Singapore Observances