SAN JOSE
Quick Facts : San Jose
Date: Mar 19, 2017
National (Many countries)
Also Called: Fallas de San Jose, Fallas de Valencia
Celebrations: Parades, Fireworks, Offering flower to the God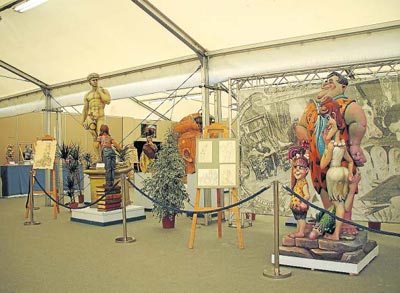 iImage Credit: wikiPedia
Fiestas are an integral part of Spanish life, and a great way to experience the country's rich and colorful culture. Many of us may be familiar with the Tomatina Festival or the Running of the Bulls at Pamplona, also a well-known festival which is a wonderful sight is the Fallas de San Jose, celebrated in Valencia marking the beginning of springtime. It is usually between the 15th and 19th March, and is the experience of a lifetime.
The origins are fascinating - it began with carpenters in the Middle Ages who would use a plank of wood called a Parot, to support their candles as they worked through the dark winter months. At the end of the cold winter, these planks would be burnt as a celebration. People began putting clothing on the Parots, and then identifying them with local personalities. These clothed planks of wood eventually became huge figures called Ninots, made of cardboard, wood, polyurethane, Styrofoam, cork, plaster and papier mache, which are burnt in the modern incarnation of the festival. In order to keep festivities under control, an understandably difficult task, the authorities reworked the festival as a celebration of St. Jospeh, the patron saint of carpenters.
Today, preparation begins months in advance, with well-organized committees raising finances to build magnificent figures 20 m high. There is even a particular area of the town dedicated to artists building the Fallas, which are often satirical lampoons of politicians and celebrities, but can also be anything from Disney figures to spacecraft. The Ninots are smaller wood figures surrounding the main statue in installations which are paraded around on the streets accompanied by crowds singing and dancing, deafening music, bullfights, and spectacular fireworks. These parades start as early as 8 am, and often carry on almost around the clock, with special firework displays, Mascletas, at 2 pm and midnight. On 17th March, at the Plaza Virgen, thousands of women from the Falla committees gather to add flowers to a wooden frame with two heads, representing the Virgin Mary holding baby Jesus. The flower offering continues till the next day, and each night is celebrated with a great enthusiasm. The final night, the Gran Crema burning on 19th March, the Nit de Foc, is strangely solemn, and formally marks the end of the celebrations on St. Joseph's Day. All the Fallas and Ninots are stuffed with firecrackers and set alight in a stunning display, and the entire city of Valencia is lit with a deep orange glow throughout the night.
The festivities end, but only with the promise of returning the following year in even greater splendor and prosperity.
San Jose Observances