LBJ'S BIRTHDAY
When is LBJ's Birthday in 2023?
LBJ's Birthday in 2023 is on the Sunday, 27th of Aug (8/27/2023).
LBJ's Birthday is on the 239th day of 2023. There are 126 days left in the year.
LBJ's Birthday Facts
Date: Aug 27, 2023
Regional
Also Called: Lyndon Baines Johnson Day
Celebrations: Celebrations; laying of the wreath ceremony at Lyndon Johnson's gravesite, family-friendly activities organized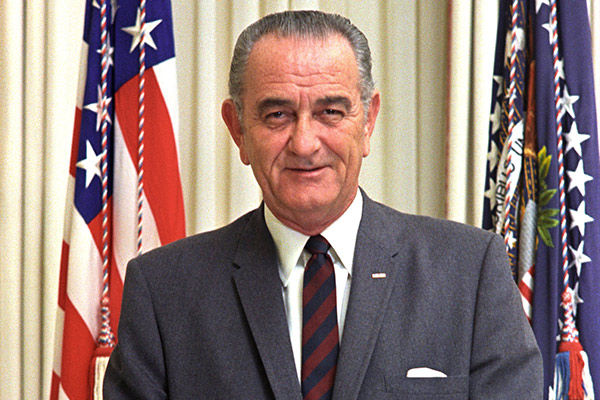 iImage Credit: Wikipedia
Lyndon Baines Johnson Day, popularly known as LBJ Day, commemorates the life and great work of Lyndon Baines Johnson. He served as the 13th United States President between 1963 and 1969.
Who was Lyndon Baines Johnson?
Lyndon was born in a farmhouse in Texas back in the year 1908. Johnson worked as a high school teacher before getting involved in politics later in his life. In 1937, he was won the elections and found his way into the House of Representatives before becoming the Vice President to Lyndon B. Johnson in 1960. When John F. Kennedy was assassinated, Lyndon Baines Johnson was sworn in as the United States's 36th president. His swearing was valid, considering that he won the presidential elections in 1964 with 61% of the votes and recorded the highest popular margin in American history. Lyndon Baines Johnson died on January 22nd, 1973, from a heart attack.
When is LBJ's birthday?
LBJ's birthday is observed on August 27th every year. The holiday is celebrated on the exact day it falls in, and it's not moved when it occurs on the weekend.
Is LBJ's birthday a public holiday?
LBJ's birthday is a state holiday in Texas. The holiday is only exclusive to Texas and not any other state.
What is open or closed on LBJ's birthday?
Being a public holiday in Texas, LBJ's birthday is a day off to the general population. Government offices, schools, and most businesses remain closed on this day. The public transit services are also affected and mostly tend to operate on the holiday timetable. However, it is likely that transport in major towns like Austin, Dallas, and Houston remains unchanged.
Things to do on LBJ's birthday
LBJ's birthday is marked by the laying of the wreath ceremony at Lyndon Johnson's gravesite. Various prominent people grace the service, and the public is allowed to witness and view the ceremony taking place.
Across Texas, there are other family-friendly activities organized for the public, such as old-time games of jacks, marble, and stick horse races.
You can also invite friends over and follow the wreath-laying ceremony on TV and listen to powerful speeches.
LBJ's Birthday Observances