RED NOSE DAY
When is Red Nose Day in 2019?
Red Nose Day in 2019 is on the Friday, 15th of Mar (3/15/2019).
Red Nose Day is on the 74th day of 2019. There are 291 days left in the year.
Red Nose Day Facts
Date: Mar 15, 2019
International
Also Called:
Celebrations: People are encouraged to wear the noses to help raise awareness of the charity.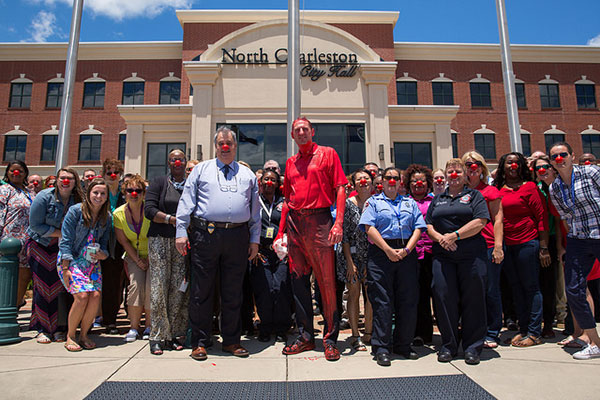 iImage Credit: flickr.com/@northcharleston
Red Nose Day is a charitable drive run by the non-profit organization Comic Relief Inc., devoted to gather people to have fun, raise awareness and collect donations to help make a difference to the lives of poverty-stricken people in the UK, US, Australia and in some of the poorest communities in the world.
This charitable drive was first launched on 8 February 1988 in UK, launched nationally, the same year in Australia and was later extended to the US in 2015. The popularity and spirit of this event is catching on and is being extended to other countries like China, Belgium, Finland, Germany and Iceland.
Red Nose Day is an unofficial national holiday in UK, US and Australia. It is business as usual for the banks and government offices in these countries.
Red Nose Day drive is conducted in March, every two years in UK; every year in the US in the month of May; every year in Australia on the last Friday of June. The last event was conducted on 24 May 2018. Since the launch 30 years ago, Red Nose day charitable drives have been able to raise over $1 billion globally.
The donations help support and sustain programs that work towards providing the poor with safety, health and education. These donations are tax free. Red Nose Day uses the power of entertainment to bring people together to have fun and help them be a part of a cause that can make a difference to the lives of the poor and needy.
Comic Relief's founders are Lenny Henry, Richard Curtis and Jane Tewson. Richard Curtis is a notable screenwriter known for Four Weddings and a Funeral, Notting Hill, Love Actually & Bridget Jones's Diary. Lenny Henry is a British actor, stand-up comedian, writer, singer and a television presenter. Jane Tewson is an internationally renowned humanitarian and a visionary. They started the charity in response to the famine that was occurring in Ethiopia.
Richard Curtis and Lenny Henry are still active participants of the Red Nose day drive and continue to raise funds to help battle poverty. Over the years, many distinguished personalities and influencers have lent their support and have helped raise awareness for Red Nose Day via social media, television specials and events. Red Nose Day Actually (2017) is a short TV movie directed by Richard Curtis, that was released not just as a sequel to the Love Actually (2003) but, also as a part of the fund-raising event Red Nose Day 2017, UK.
Some of the beneficiaries of Red Nose Day donations include non-profit organizations such as Children's Health Fund; Boys & Girls Clubs of America; Feeding America; Gavi, the Vaccine Alliance; charity:water; UnidosUS; Global fund and Save the Children.
The foam/plastic red nose is a prominent symbol for Red Nose Day. One can find these at various supermarkets and charity shops where every purchase is equivalent to a donation towards the fundraiser and to bring on a laugh. People are encouraged to shed inhibitions and wear the red noses and be at their silly best on Red Nose Day, in order to help raise awareness of the charity.
Those who want to join the fun and raise money, hold Red Nose Day fundraisers in their communities, at work or at schools and colleges. The organizers of Red Nose Day have a lot of ideas for raising money in a fun way by way of sales, games, races or shows. Television channels like the BBC & NBC run telethons dedicated to the Red Nose Day. It is an opportunity to gettogether with friends and family to watch the marathon telethons while wearing red noses, to laugh at crazy antics that the celebrities come up with to raise money and to pledge money towards the charitable drive.
Red Nose Day in UK
Red nose day is a biennial event in UK that focuses on kid's health and education and women's safety, in UK and Africa.
Red Nose Day in USA
Red Nose Day is an annual event in the USA that focuses on improving the lives of children from disadvantaged communities in both USA and other poor countries in the world in terms of health, education and safety.
Red Nose Day in Australia
Red Nose Day is an annual event in Australia that focuses on prevention of infant deaths in Australia and supporting people affected by this tragic event.
Red Nose Day Observances