WORLD BICYCLE DAY
When is World Bicycle Day in 2023?
World Bicycle Day in 2023 is on the Saturday, 3rd of Jun (6/03/2023).
World Bicycle Day is on the 154th day of 2023. There are 211 days left in the year.
World Bicycle Day Facts
Date: Jun 03, 2023
International
Also Called: UN Bicycle Day
Celebrations: Participate in events in local area promoting cycling day.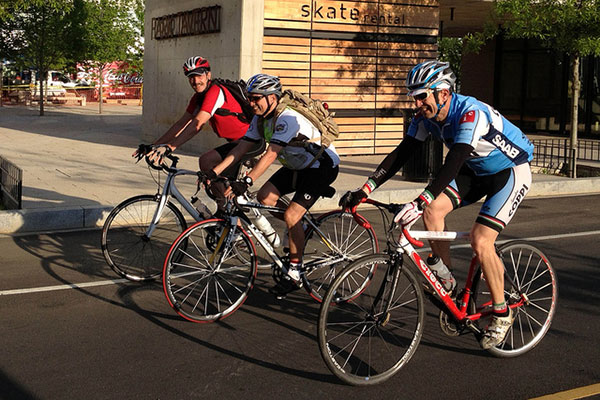 iImage Credit: flickr.com/@navfac
United Nations World Bicycle Day
United Nations has assigned 3 June as the World Bicycle Day. It is designated as an official United Nations day to spread consciousness about the benefits of using the bicycle in order to promote health, better environment and sustainable development by bringing people together for a common cause. The declaration for observing 3 June as a designated World Bicycle Day holiday was passed on 12 April 2018 after an agreement by 193 members of The United Nations General Assembly. Therefore, 3 June 2018 was the very first year where this holiday was observed globally. The first year of celebration observing the World Bicycle Day saw a gathering of international leaders at United Nations headquarters in New York City.
Is World Bicycle Day a bank holiday?
World Bicycle Day is not a bank holiday and is business as usual at both private and government offices.
Which countries will celebrate World Bicycle Day?
All countries that are a member of the United Nations, other relevant international, national, regional sports organizations, private and government organizations and other pertinent investors are invited by the United Nations to observe World Bicycle Day and endorse it.
Who was instrumental in creating World Bicycle Day?
World Cycling Alliance and the European Cyclists' Federation are the two international establishments that were instrumental in creating a holiday that recognizes the bicycle. A report was submitted to the United Nations, by these establishments in 2015, highlighting the ways in which cycling promotes and directly impacts the sustainable development goals outlined by the United Nations.
Who designed the logo for World Bicycle Day?
The logo adopted to represent World Bicycle Day has been designed by Issac Feld while the animation that accompanies it has been designed by Professor John E. Swanson. The logo represents various types of bicyclists around the globe and drives home the point that the bicycle belongs to and serves all. The hashtag #June3WorldBicycleDay is placed below the logo.
Why should we celebrate the bicycle?
The bicycle is a mode of transport that is affordable, environment friendly, reliable and is an uncomplicated sustainable means of transport. It can used as a tool to bolster development by helping people with better access to education, health, mobility, social engagement and enable them to be more aware of the environment they live in.
How to celebrate World Bicycle Day?
Your voluntary contributions will help cover the cost and ensure that events related to the World Bicycle Day can be held annually. You can participate in events promoting cycling day, share your best moments on social media, keep abreast about the lasted news and developments related to World Bicycle Day by using the hashtag #June3WorldBicycleDay. As a bicycle fan you can participate by holding a riding gettogether and getting people involved to go for a ride on their bicycles.
Other Bicycle Days
Bicycle Day is celebrated on 19 April. The name is misleading and this day celebrates a historical event and not the bicycle. This was the day Dr. Albert Hofmann deliberately took 250mcg of Lysergic acid diethylamide (LSD) after an accidental discovery by him. Once the drug was in his system, he felt strange changes in perception and experienced anxiety. He therefore decided to ride his bicycle home. The incidents that occurred during this trip lead to LSD's popularity as a recreational drug. World Naked Bike Day is an annual protest event that is held on 10 June. It is a way to show dissent for oil dependency and car culture. This event also highlights the dangers that cyclists face on the road. World Naked Bike Day is held in over 25 countries like UK, USA, France, Germany, Israel, Australia, Canada, Italy, Spain, Austria. The dates may vary in some countries depending in the weather. The very first Naked Bike ride was held in Zaragoza, Spain in 2001. Although it is known as World Naked Bike Ride, you do not need to be nude in order to participate in the event. Apart from the bicycle, one may use inline skates, roller blades, unicycles, skateboards or any other body -powered conveyance.
World Bicycle Day Observances